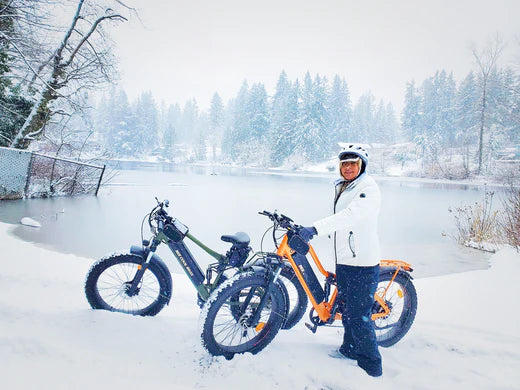 Full-suspension e-bikes are getting more and more popular among e-bike riders as they are more comfortable and have better frame strength, especially for the soft-tail structure. Most importantly, they are suitable for people of different ages from the young to the old.

They are becoming people's favorite type of e-bikes, which is not hard to image, as they have improved system and enhanced composition that allows them to put less effort but get more comfort for each ride. If you are searching for the next generation or your first mountain e-bike, you need to read this article first, and you should consider investing in a full-suspension e-bike.

What is a Full-Suspension e-bike?
Basically, a full-suspension e-bike features both a suspension fork up front and a rear shock, typically a soft-tail structure, whereas a hardtail e-bike has only a suspension fork. The soft-tail frame allows it to absorb most vibrations and bumps so riders can have a peaceful and enjoyable ride. This is perfect for mountain riders or travelling fans since they do not have to put in a lot of effort while going up a mountain or even when coming down.

If you want e-bikes with great comfort and strength, perhaps a full-suspension electric bike is best for you since you do not have to have the best skills but you can have the best experience. Now let's help you understand why they should become your future and first option for riding and how they can benefit you.

Full-suspension e-bikes are truly revolutionary and are setting the standard for the whole e-bike market all over the world. The reason why full-suspension electric bikes are becoming extremely popular is related to their enhanced structure and top-class technology system. This allows riders to have a far more enjoyable ride thanks to their incredible comfort, as well as have a pain-free experience since they do not have to suffer the consequences of a long ride anymore.
Full-suspension e-bikes maximize your pedaling, which makes riding easier and better. You can forget about doing a huge effort while riding your e-bike, especially while going uphill.

These e-bikes are made to absorb the impact of bumps and vibrations on uneven roads, offering you a special riding experience. They are very easy to be used and provide a helpful hand when discovering new places, going up mountains, and descending too.

After talking so much about full-suspension electric bikes, you are possibly wondering where to get a good full suspension e-bike that will become your best companions for all your adventures.

BeeCool is the pioneer on full suspension e-bike manufacturing in the market and we have mature technology and innovation resource on the soft-tail structure building with lowest cost to get the best quality. Therefore, we can offer you the most cost-effective full suspension e-bike in the market.

Now join BeeCool and check your first full suspension e-bike here to begin your adventures!