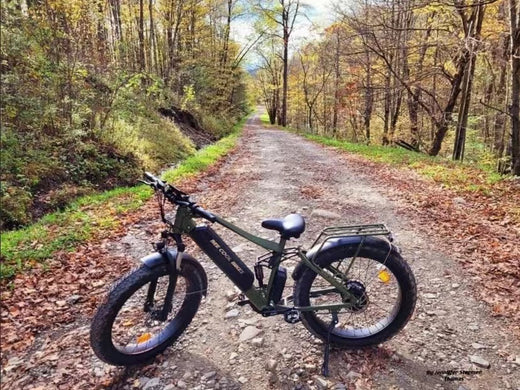 With the time you spend on your electric bike increasing, it's surely natural that you'd like to make yourself as comfortable as possible. Sometimes it's critical to find the right bike fit. Other times, it's to make sure you have a saddle that matches your riding style.
To improve your riding experience, we want to share a few comfort tips that can help keep moving all the year round.
With peak riding season right the corner, there is a good chance that you're going to be spending a lot of time in the next few months on your electric bike, so here we want to share a few things that you can do to keep yourself comfortable after all when you're riding up mile after mile, you are not going to want anything to slow you down. Let's start with the basics of finding the right bike fit.
If you've had any knee issues when riding, then this is simply what you definitely want to listen to. You may have the perfect bike that's designed for your height, weight and riding style. However, you're not going to be riding to the best of your abilities until you have the right bike fit, so what does this mean? Basically, it's the idea that the touch points of the bike like the 
handlebars
 and saddle have come to meet the riders wherever they are and within whatever range of motion.
There is one easy way to make sure you have the right bike fit that is to adjust your seat. if you make a 30 degree bend in your knee at the bottom of the pedal stroke and your hips are rocking back and forth when you ride, probably the seat is a little bit too high for you. You can also adjust the angle of your saddle so that it feels flat. If you have to push on the handlebar to stay in place, then you can tilt the saddle backwards slightly. You can do this quick adjustment by using the quick release on the clamp and with an Allen wrench, but please just remember that the bike has to support the body. You can try and adjust your posture but at the end of the day, it's a better idea to adjust the bike so that it naturally puts you in a good relaxed position while these adjustments are pretty easy to do on your own and there are likely some professionals in your area who can also help you out.
If you haven't been riding in a long time, virtually any seat is going to give you some initial discomfort. However, we can try our best to release the discomfort. 
BeeCool bikes
 offers a comfortable saddle which is similar in shape to our usual one but a little bit more plusher and is designed for active riders who will be doing a lot of pedaling. BeeCool bikes also wants to provide customers with an enhanced comfort saddle which is a wider cruiser style seat designed for more leisurely riding.
By following these tips, you'll be sitting yourself up for easy comfortable rides for years to come and if you'd like any more info, please just 
follow us
.