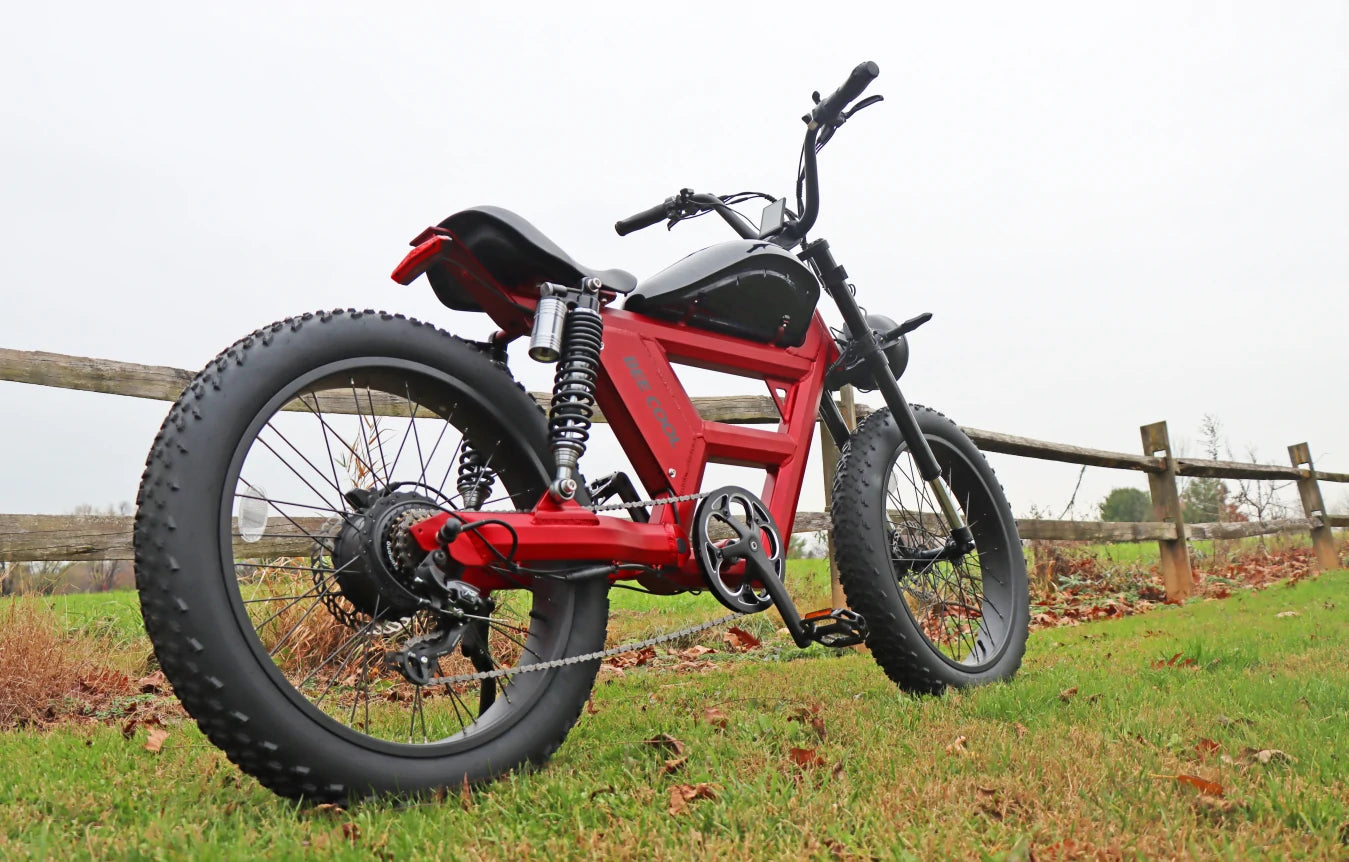 Since its foundation, BeeCool has been offering the most cost-effective e-bikes to our fans. How could this happen? BeeCool gives the best soft-tail e-bikes with large battery at the lowest price. If you have done few researches, you will find e-bikes with 
soft-tail structure
 and large battery from other brands are hundreds of dollars more expensive than BeeCool's models. We did many researches to know what our customers want and what fits our customers best. Most of all, what the best we can give our customers and then we find that we have the best soft-tail tech and battery tech. The mature soft-tail tech enables us to offer our fans the most comfortable e-bike ever and our special battery tech enables us to provide our fans with large capacity battery to guarantee long range for each of our model. With mature soft-tail and large battery tech, we can offer you the best price for soft-tail e-bike and large battery e-bike.
BeeCool Soft-tail Tech
If you are a BeeCool fan, you must have noticed that BeeCool offers the most versatile and comfortable soft-tail fat tire e-bikes in the market. We have the following different soft-tail models, Bee Adventurer, Bee Explorer, Bee Rambler and Bee Challenger. They have different soft-tail rear frame structures but all offer you comfortable riding experience. BeeCool also has done many tests to find out the best position for different rear suspension systems. Now let's check each different rear suspension for BeeCool Soft-tail models.
First, rear suspension for Bee Adventurer & Bee Explorer
The typical four-bar linkage rear suspension brings you great rides even on bumpy roads or down-hill experience. We tested many rear suspensions and find the present one on Bee Adventurer. We also tested the rear suspension to find out the best travel for this suspension. On Bee Adventurer, you can have the most confidence to take different riding adventures.
Second, rear suspension for Bee Rambler
The single coil rear suspension for Bee Rambler has large payload capacity to guarantee that the long seat can support two person at least. When you ride Bee Rambler, you will find the pure pleasure for cruising. With the 
special rack for Rambler
, you can carry heavy load and enjoy great comfort at the same time.
Third, rear suspension for Bee Challenger
Bee Challenger has the most powerful motor of 1000 watts and the frame for the bike must have related strength to fit the power so as the rear suspension for it. BeeCool uses double air rear suspension for Bee Challenger model to guarantee the safety and comfort of this model. The classic motorcycle-style design and powerful motor together with the most advanced rear suspension ever make Challenger a power beast with pure mechanical beauty and comfort. If you want a powerful beast to conquer hard roads, then Bee Challenger must be your first choice.
BeeCool Large Capacity Battery
The smallest battery BeeCool offers now is 48V 20Ah battery which is larger than most batteries on an e-bike in the market. Moreover, the largest battery of BeeCool is 48V 30Ah. Some brands may add two or more batteries on an e-bike to enlarge the battery but this can't be compared with a single and original large capacity battery whether from safety, weight or compatibility. Ranging from 48V 20Ah to 48V 30Ah, the large battery capacity of BeeCool bikes makes sure that all your BeeCool bikes will give you great confidence on the range. Check 
BeeCool models range
 here and you will be surprised by it!
To be brief, BeeCool wants to give all our fans the greatest soft-atil long range fat tire e-bikes that fit everyone. As soft-tail & long range e-bike expert, BeeCool definitely has the ability to realize that. BeeCool will keep improving on design and quality. Good , better, best and never get it rest! Once BeeCool Always Be Cool!